Housing activists have occupied a property owned by Southwark council which was due to be auctioned today at a starting price of £2.3 million.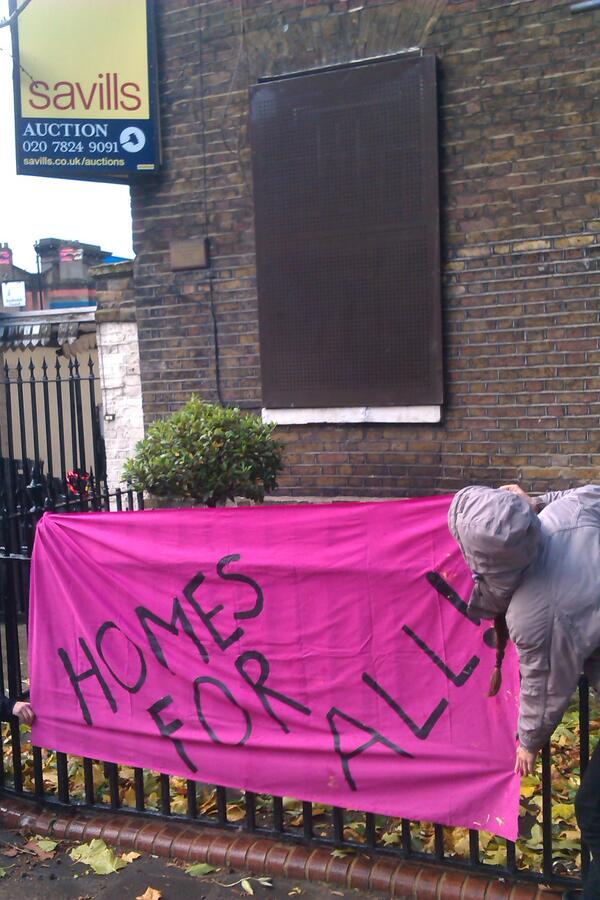 They have occupied the building to stop the sell-off of yet more public housing stock when the borough faces a severe housing crisis with almost 25,000 people on the housing waiting list and increasing numbers of people forced to sleep rough on London's streets.
The occupation is also a challenge to section 144 of the Legal Aid Sentencing and Punishment of Offenders Act (LASPO) introduced last September which criminalised squatting in residential properties. This law has meant that homeless people seeking shelter in empty buildings can find themselves with a prison sentence.
Sarah Morris, a local housing campaigner involved in the occupation said:
"We have occupied this building to stop yet more council housing being sold off to private developers. Southwark council has a waiting list with 25,000 people in need of quality, secure, and truly affordable housing that this building once was. In the face of such housing need in the borough, London, and the whole of the UK this sale of council housing is madness. The attempted sale of this building is a part of the social cleansing that is happening across London where local working class residents are being forced out so that wealthier people can buy it up. We hope that by taking direct action, we can stop the sale of these homes so that they remain a public good rather than another empty building owned by a property speculator.
"The squatting of this residential building is significant because it is a challenge to the law introduced last year which criminalises homeless people through the banning of squatting residential buildings. Community led occupations such as our own to defend our council housing could be made illegal if this punitive law is extended."
Follow @housingactionsl for more info and photos